Delivering New Orleans the Best Cheesesteak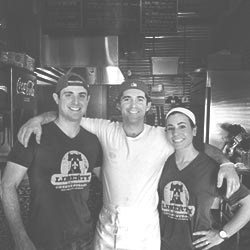 Our founders Mike and Joe have been best friends since they started Tulane together in 2001. They have supported each other through hurricanes, loss of jobs, and loss of loved ones. Over the 10 years their friendship has become a brotherhood. After graduation Mikebegan teaching in New Orleans' Ninth Ward, and Joe began his career in finance. Mike and Joe have always had the idea of opening a cheese steak restaurant in New Orleans as Mike was born and bred in Philly and Joe was "a happy fat kid at heart" and loved the cheese steak. While at Tulane they also quickly realized that the one thing missing from the New Orleans food experience was a proper cheese steak.
This glorious cheese steak plan was sidetracked in the wake of 'The Storm' (her name never to be uttered again) as many things were. After a long series of awkward man hugs and "I'm not crying – really" moments, Mike returned to Philadelphia to pursue a life outside of New Orleans (as if one exists).
Mike returned to New Orleans in February of 2011 so that he could stand as Best Man in Joe's wedding. During all of the wedding festivities, it became clear to Mike that he needed to move home to New Orleans, and he knew just what he wanted to do when he got here. After many discussions, and nights of drinking, Mike and Joe decided to open the long discussed cheese steak shop, modeled after the Philly legacy, but catered to the New Orleans foodie. Mike took a huge leap of faith and gave up his life in Philadelphia to move back to New Orleans to make the dream a reality.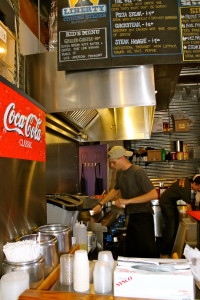 Food has always played a central role in our Founder's lives and their friendship. Joe's parents owned a family restaurant throughout his formative years and he spent countless hours learning every aspect of the restaurant business. As a child he would be tasked with prepping onions with the line cooks and manning the fry station as his Mom barked orders to him during the dinner rush. His Dad taught him the management and financial side of the business as well as the importance of treating the customer like family while working the "front of the house." Mike was reared by his Italian Mother and Great Grandmother. Both influential women instilled in Mike a deep appreciation for the food experience, the joy of serving, and how a meal can keep a family close.
Throughout their relationship, Mike and Joe have routinely cooked and competed in the kitchen while preparing for their weekly Sunday 'Family' dinners. They would have passionate (read: screaming) arguments over the proper pork to veal ratio in hand rolled meatballs, but they both agree on one thing: the importance of the food experience in daily life. In short, the best foods are always second to the people you share them with. This simple premise is the foundation for Liberty Cheesesteaks.
After countless days of prototyping and perfecting they are excited to bring to New Orleans the best cheese steak, bar none.
WE ARE CLOSED!!